UK PM's second attempt to hold early election voted down by Parliament
In the second emergency debate Corbyn called on the House of Commons to require the government to abide by the law given Royal Assent on Monday requiring Johnson to ask the European Union to extend Britain's membership of the European Union if there is no deal.
The motion for an election needed the support of more than 400 MPs but gained the backing of only 293 lawmakers.
He kicked 21 lawmakers out of Parliament's Conservative group after they defected to the opposition and two ministers - one of them being his brother - recently quit amid the political infighting.
British MPs are about to be sent home, with Prime Minister Boris Johnson's Government confirming it will suspend Parliament until October 14.
Johnson's anti-democratic suspension of Parliament was carried out to prevent opposition MPs from taking control of Parliament's order paper over the next five weeks and derailing his plans to withdraw the United Kingdom from the European Union (EU), without a deal if necessary.
Labour leader Jeremy Corbyn described the government's decision to go ahead with the suspension of parliament as "disgraceful".
When that business has finished, Parliament will be "prorogued", in a ceremony involving a statement from Queen Elizabeth II being read in the upper House of Lords.
Johnson promised when he took office in July that he would finally achieve the Brexit that Britain voted for in a 2016 referendum, taking the country out of the bloc by October 31 with or without a withdrawal agreement to smooth the transition.
"As keen as we are, we are not prepared to risk inflicting the disaster of no-deal on our communities", Corbyn said.
British lawmakers earlier rejected Johnson's request for an election before the country's scheduled departure from the EU. He added, "Parliament should be holding the government to account".
Despite the vote, Johnson reiterated that he aims to meet the deadline, with or without a deal. Politicians including the Commons Speaker John Bercow - who announced he is standing down - registered their protests at Johnson's decision to enforce an unusually long suspension during a political crisis.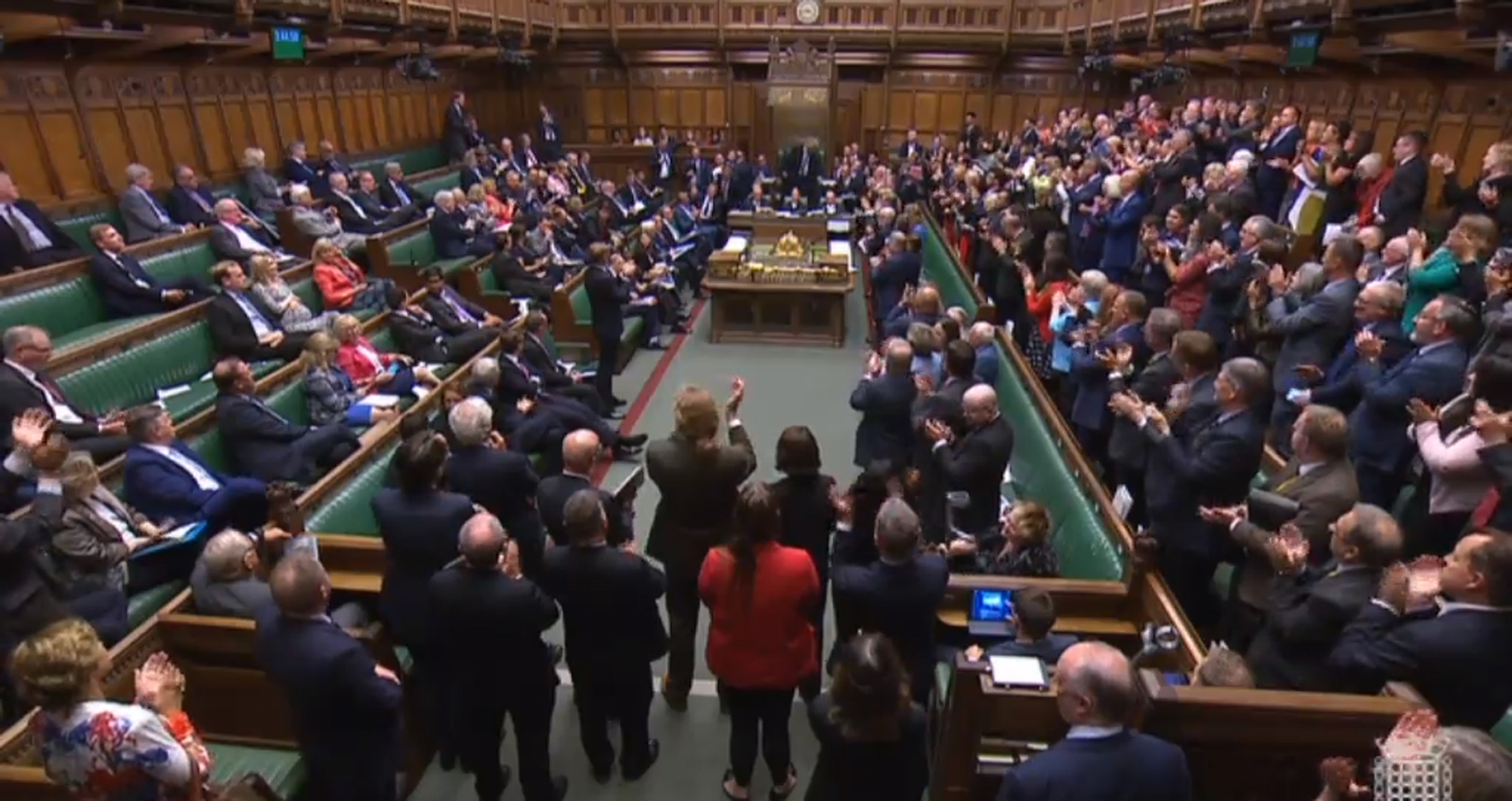 MPs pack the Commons
Johnson may not consider Farage a friend, but Farage extended Johnson an olive branch last week, saying, "If Boris decides the only way forward, to get Brexit delivered, is through a general election offering people a clean break, in those circumstances, I'm 100% behind him wanting to win the election, there would be a non-aggression pact".
Mr Johnson wants to keep this date, but many MPs fear his threat to leave without agreeing on divorce terms with Brussels would cause huge disruption.
The motion is not legally binding but is politically hard to ignore.
Government minister Michael Gove warned their "desire to rifle through private correspondences of advisers is to set aside legal precedent and the rights of citizens".
But the wider public say he should instead ask for an extension, by 50 per cent to 28 per cent.
A rebel law passed by MPs and peers means he must beg Brussels for an extension if he has not sealed an agreement by October 19 - something he has said he will never do.
While the Parliamentary arithmetic has rendered the government unable to govern making in ordinary constitutiona times snap elections essential, the opposition appears to be weaponising the chaos, preventing a vote to force through a Brexit delay leading to a cancellation.
Also on Monday, Bercow announced his resignation.
The EU says Britain has not produced any concrete proposals for replacing the contentious "backstop", a provision in the withdrawal agreement reached by Johnson's predecessor Theresa May that is created to ensure an open border between EU member Ireland and the UK's Northern Ireland.
Bercow has been a central figure in allowing backbench MPs to stop a no-deal Brexit.
But the European Union accuses him of offering no alternative.
Canada: Hurricane Dorian's sting in the tail leaves 500,000 without power
Hopefully this does not become anything too serious as the Bahamas do not need any more storms as they try to recover from Dorian. Dorian also lashed the japanese suggestion of ME with large rain, sturdy winds and higher surf as the storm handed offshore.
Pakistan blames India for Sri Lanka players opting out of tour
The PCB said: "We understand and respect the prerogative of SLC to select the best available players for the upcoming tour". If the series does not take place in Pakistan, it could be shifted in UAE - the venue for the two-match Test series.
Top 5 Apple Music Features Coming Soon to Android
Playlists, including Apple's personalized " For You " and Apple Music radio stations, will also be available in the beta version. This will allow subscribers stream music directly from a browser without having to install iTunes or a separate app.