Google fined $170M for YouTube's violation of child privacy laws
Google and its video sharing subsidiary have agreed to pay a record $170 million fine to settle claims by the Federal Trade Commission and the New York Attorney General that YouTube illegally collected personal information from children without their parents' consent.
Democrats and children's advocacy groups, however, complained that the settlement terms aren't strong enough to rein in a company whose parent, Alphabet, made a profit of US$30.7 billion previous year on revenue of $136.8 billion, mostly from targeted ads.
Reports last week suggested Google would pay up to $200 million to settle the accusations.
The fine marks the largest the FTC has leveled against Google, although it's dwarfed by the $5 billion fine the agency imposed against fellow tech giant Facebook earlier this year for privacy violations.
The company also introduced more parental controls for YouTube Kids, the app it launched in 2015 to offer a smaller selection of YouTube's massive library, and created a web version of the app. In YouTube's lengthy terms of service, those who are under 13 are simply asked, "please do not use the Service".
In sanctioning the company, government officials specifically pointed to Google's marketing communications with brands such as Mattel, the maker of Barbie, which described YouTube as "today's leader in reaching children age 6-11 against top TV channels".
Regulators charged that Google knew certain YouTube channels were popular among younger viewers, touted this fact to brands and advertisers, and tracked kids' viewing histories for the objective of serving them targeted advertisements, ultimately raking in "millions of dollars" as a result of its repeated violations of federal children's privacy laws.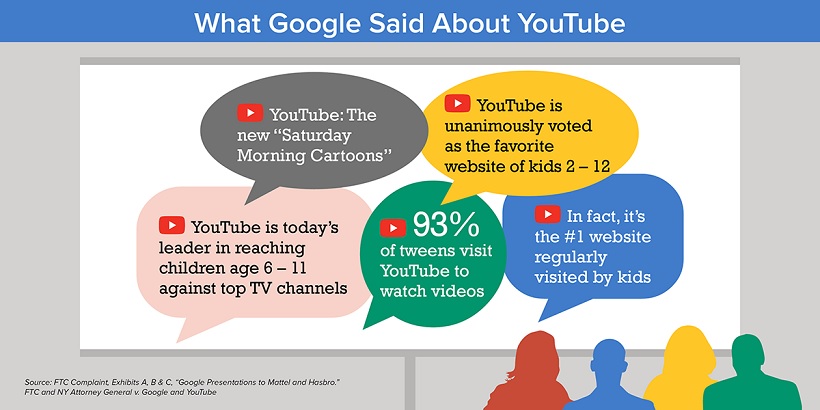 250514. 123rf. Stock Photo - A social media logotype collection of well-known social network brand placed on modern computer keyboard. Organizations including the Campaign for a Commercial-Free Childhood and Center for Digital Democracy filed multiple complaints at the FTC, pointing to YouTube's own marketing materials that crowed about its popularity among users, as a sign that the company was fully aware that children under age 13 were watching videos there.
"The $170 million total monetary judgment is nearly 30 times higher than the largest civil penalty previously imposed under COPPA", FTC Chairman Joe Simons said in a joint statement with fellow Republican Commissioner Christine Wilson.
"Yet when it came to complying with the federal law banning collecting data on children, the company refused to acknowledge that portions of its platform were clearly directed to kids". Young children are protected by a federal law that requires parental consent before companies can collect and share their personal information. The company plans to also find videos in this category using machine learning.
YouTube outlined how it would change the way it handles children's content under the agreement.
YouTube Kids does not target ads based on viewer interests the way the main YouTube service does.
Ms Wojcicki added that Google would create a $100 million fund "dedicated to the creation of thoughtful, original children's content on YouTube and YouTube Kids globally". It also collects personally identifying device information. As a result, it will limit the data it collects on those views to the bare minimum, YouTube said. Google is relying on video creators to label such items, though it will also employ artificial intelligence to help.
In addition, personalized ads will stop running on content made for kids, and features like comments and notifications will no longer be available on videos made for kids.
US Open: Semifinal opponent doesn't matter, Svitolina says ahead of Serena clash
Svitolina will play six-times champion Serena Williams on Thursday for a place in her maiden grand slam final. She has reached the semifinals at the US Open and is hoping to reach her first career major final.
Want to live longer? Stop consuming soft drinks
It's possible that soft drink consumption could be a marker for some other lifestyle factor or behaviour, Lee explained. The participants joined the study between 1999 and 2000 and were followed up for a period of 16 years.
Manchester City vs Brighton Premier League
However, City manager Pep Guardiola's satisfaction was tempered by a worrying injury to influential defender Aymeric Laporte . Guardiola was also pleased with another of his players after the 4-0 win, heaping praise on Algerian winger Riyad Mahrez .