Greece: Major forest fires rage near Athens as homeowners flee
Scores of locals and holidaymakers fled to the sea to try to escape the flames as they tore through towns near Athens stoked by 100-kilometre-per-hour wind gusts, devouring woodland and hundreds of buildings.
"It is a hard night for Greece", said Prime Minister Alexis Tsipras, looking pale after returning from a visit to Bosnia.
A young Irishman on honeymoon was among those who died, the British embassy in Greece confirmed.
In the coastal village of Mati, one resident described the arrival of the fires as "a night of hell".
Local authorities have been blamed for the high death toll as people were stranded in the town of Mati without a proper evacuation plan.
Smoke rising over an avenue during a forest fire in Neo Voutsa, a northeast suburb of Athens, Greece on Monday. More than 60 people were killed in 2007 when huge fires swept across the southern Peloponnese region.
Working through the night, coastguard vessels and other boats rescued nearly 700 people who had managed to get to the shoreline and pulled another 19 survivors and six dead bodies from the sea, the coastguard said.
"The procedure is difficult, harder than that of other mass disasters which we have dealt with in the past as a forensics department", said coroner Nikolaos Kalogrias.
The coast guard said the latest victims counted were three women and a child whose bodies were found in the sea.
"What upsets me and what I will carry in my heart is that it is awful to see the person next to you drowning and not being able to help him".
"We just want to find her", said Saridou's 25-year-old son Asot Kostoyan. "Burning pine cones were flying everywhere".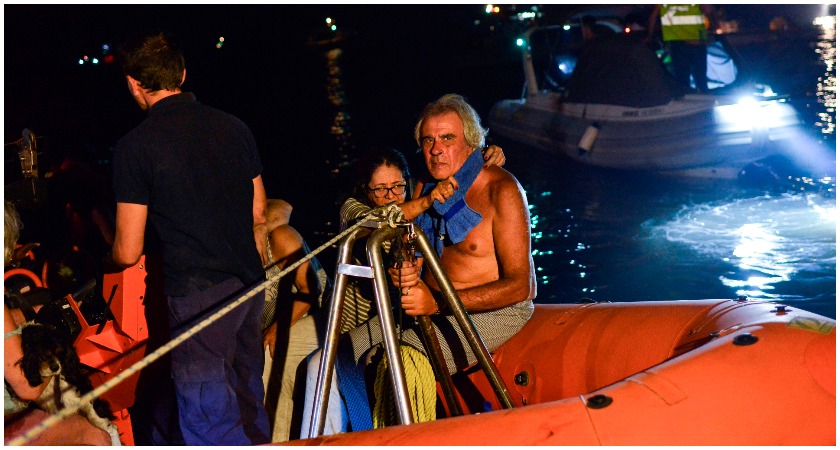 Families had to be rescued by boats after fleeing flames into the sea
Twenty-six of the dead were groups of families or friends found huddled together and hugging in Mati, near Rafina.
Volunteers were also doing the rounds to provide food to those whose houses survived relatively unscathed but which have experienced sporadic power cuts since the fire struck.
Aleka Papariga, a former Greek Communist Party leader who lives near Rafina, said: "The police tried to direct us away from the fire, but we couldn't escape it".
Fires are not uncommon in Greece during summers when temperatures can reach 40 degrees Celsius (104 Farenheit).
People cover their faces from the smoke that fills the sky near Kineta, west of Athens, after roads were blocked due to forest fires on Monday.
More than 600 firefighters have been involved in the effort to tackle the flames, with Germany, Spain, Croatia and Italy among those offering support and firefighting planes.
The service was also receiving dozens of calls reporting missing persons, but it was unclear if some of them were among those found dead, a spokesperson said.
Officials said they were Greece's deadliest blazes in more than a decade.
"A drop in the ocean", read the front page of newspaper "Ta Nea".
Tsipras chaired a meeting of his emergency management committee on Wednesday though no statement was issued.
Desperate relatives appeared on television to plead for information on those missing, while other residents of Mati asked why authorities had been unable to prevent so many of their neighbours from getting trapped by a wall of flame in streets with no exit route.
Aaron Judge exits game after being hit by pitch
So leave it to NY fans to get creative - before they even knew the final diagnosis - and hold a "candlelight vigil" for Judge. The Yankees hope they won't be forced into such drastic action, but it's not something that should be ruled out entirely.
Konami released a new update for Metal Gear Solid V
When players think of the Metal Gear Solid series, chances are they might be thinking of the game's primary protagonist Snake. There has also been a new difficulty level (hard) added to the "Event FOBs" that lets your earn more even points.
Ferguson Fire Forces Yosemite Valley To Evacuate All Visitors
The Ferguson Fire began the night of July 13 and has spread across almost 60 square miles of rugged forest west of the park. Yosemite Falls on July 12, 2018, before smoke from the Ferguson Fire filled the Yosemite Valley floor.