Google won't allow installing Google Chrome extensions from websites
by Pat Wise
in Hi-Tech
— Jun 13, 2018
Until now, this has been possible because the inline installation process allowed developers to create extensions, have the extensions hosted on the official Chrome Web Store, but allow users to install the extensions just by clicking a button on a third-party website without the user ever visiting the extension's Chrome Web Store page. Google found that these inline installations actually took away necessary information that a user could rely on to predict the usefulness of the extension, as well as instructions on its use.
GOOGLE HAS CONFIRMED plans to prevent the installation of extensions in Chrome from anywhere except the Chrome Web Store.
The direct installation may save the user a click or two but it led to all kinds of abuse as well.
First, as of Tuesday, new extensions can't be installed inline. It displays the name of the extension, its rating and number of votes, and number of users. According to the researchers, nearly 10 per cent of extensions submitted to the Chrome Web Store between 2012 and 2015 were malicious.
The prompt omits information such as the extension's description, user reviews, and developer information.
Google Chrome has the privilege of shipping on millions of Android devices around the world, giving it a massive head start in claiming market share.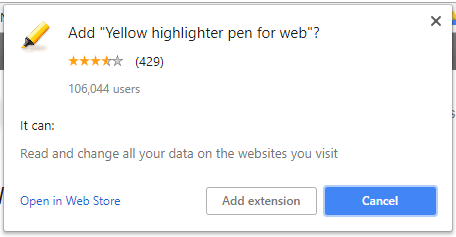 "We continue to receive large volumes of complaints from users about unwanted extensions causing their Chrome experience to change unexpectedly", explains James Wagner, Google's extensions platform product manager.
The company promised to do something against deceptive inline installations in January 2018 and revealed that fewer than 3% of extensions used deceptive or confusing install flows and that these 3% account for more than 90% of user complaints.
Starting today, all new Chrome extensions will not be able to provide inline installs to users.
This will force users to visit the Chrome Web Store directly to install Chrome extensions. Users will be redirected to the Chrome Web Store. Come December and the launch of Chrome 71, the API that now allows for this way of installing extensions will go away. Anyone using a button on a third-party website that invokes inline installation is advised to update the applicable link to point to a Chrome Web Store extension listing.
In the age of deceptive ads, websites, and extensions, the move to remove inline installations was a long time coming.
Mother of a 5-year-old warns about tick paralysis
At the hospital, the doctors did blood tests and performed a CT scan to confirm that Kailyn did, in fact, have tick paralysis. Griffin initially thought the girl's legs were asleep, but took her to the hospital when she was unable to speak coherently.
Trump Wants to Pull U.S. Troops out of S.Korea
Kimberly Atkins is traveling in China with a delegation of journalists hosted by the China-United States Exchange Foundation. The two leaders concluded their Tuesday meeting by signing an agreement that acknowledges progress in their talks.
Burger King mocks IHOb name change and people are loving it
According to its new cover photo on Twitter and the remodeling of its logo, Burger King is now Pancake King. IHOP's burger-centric rebranding as IHOb has inspired some mockery from fast-food chains .