'Game of Thrones' star Emilia Clarke reveals near-fatal brain aneurysms
A Game of Thrones star has revealed she received brain surgery between filming the series. "I said to myself, "I will not be paralysed".
On the morning of February 11, 2011, I was getting dressed in the locker room of a gym in Crouch End, North London, when I started to feel a bad headache coming on.
Emilia noted that, even when she was doing a plank during her workout she "felt as though an elastic band were squeezing my brain". She continued, "I tried to ignore the pain and push through it, but I just couldn't".
"I reached the toilet, sank to my knees and proceeded to be violently, voluminously ill", Clarke explained.
Things got worse from there. At some level, I knew what was happening: my brain was damaged. During what should have been one of the most exciting times of her career, Clarke describes feeling the exact opposite. By this point, the actress was weak and in and out of consciousness. After being transported to the hospital by ambulance, she was sent for an MRI and brain scan.
At 24 years old, Clarke was diagnosed with a subarachnoid hemorrhage, a type of stroke that kills one-third of patients.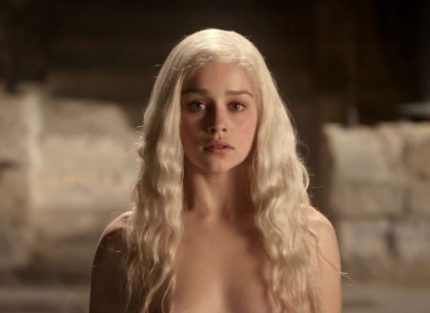 Emilia battled serious health issues following Game of Thrones Season 1. HBO
Clarke experienced her second aneurysm in 2013 after completing the show's third season. I went back to my life, but, while I was in the hospital, I was told that I had a smaller aneurysm on the other side of my brain, and it could "pop" at any time.
At a nearby hospital, the M.R.I. results were ominous: an aneurysm requiring urgent brain surgery. Clarke was then moved to the ICU and was told the "great hurdle" was to make it to the two-week mark. "But now I couldn't remember it", Clarke writes.
But one day after her "safe" day, Clarke could not state her own name. She told the publication: "Just when all my childhood dreams seemed to have come true, I almost lost my mind and then my life. I asked the medical staff to let me die", she wrote. "My job-my entire dream of what my life would be-centred on language, on communication".
"I went in for a brain scan - something I now had to do regularly", she wrote.
In that moment, Clarke says she kept trying to tell herself she was "not paralyzed", by moving her fingers and toes and recalling lines from Game of Thrones.
"I vividly remember thinking, I can't keep up or think or breathe, much less try to be charming". During this period she "sipped on morphine in between interviews" and suffered from considerable pain and fatigue. For the next three hours, surgeons went about repairing my brain. She was required to undergo a second procedure that ultimately failed, causing her to have "a massive bleed". Its aim is to support young people with brain injuries and help them get access to resources.
Читайте также: FDA Approves First Drug to Treat Postpartum Depression
Two years later, they discovered that it had doubled in size and attempted to operate on her once again, but ended up having to rush her into emergency surgery and cut open her skull. Afterwards, parts of her skull had to be replaced with titanium.
Emilia told the show's producers about her terrifying health condition, but chose to keep it secret from fans. "Six weeks after the surgery, the National Enquirer ran a short story".
Clarke has spoken about the trauma of that experience for the first time in a New Yorker piece today.
I'm also super happy that she is also giving back and is developing a charity in conjunction with partners in the United Kingdom and the USA, called SameYou, that "aims to provide treatment for people recovering from brain injuries and stroke".
"There is something gratifying, and beyond lucky, about coming to the end of 'Thrones, '" Clarke wrote. "These days, you can't see the scar that curves from my scalp to my ear, but I didn't know at first that it wouldn't be visible".
Read her full essay here.
При любом использовании материалов сайта и дочерних проектов, гиперссылка на обязательна.
«» 2007 - 2019 Copyright.
Автоматизированное извлечение информации сайта запрещено.


Код для вставки в блог