Apple refreshes entire lineup of Watch bands with new spring colors
by Pat Wise
in Hi-Tech
— Mar 22, 2019
The official iPhone XS and XS Max case collection by Apple just got enlarged by a few entrants, as seven new colors get introduced to the general buying public.
And if you own an Apple Watch, there are a bunch of new bands coming out today. Apple has refreshed its Apple Watch band lineup with new color options just in time for Spring. A lot of those seem created to match the new iPhone case color options, but there are plenty of extracurricular additions, too, check them all out below.
Furthermore, the Apple Watch Sport Loop is now available in Spearmint, Lilac, Papaya, and Cerulean.
iPhone XS Leather Cases also now come in new colours, including Cornflower, Sunset, and Lilac, and the same colours can be found for iPhone XS Max Leather Cases, iPhone XS Leather Folio, and iPhone XS Max Leather Folio.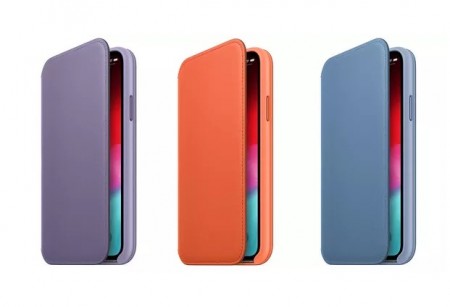 As for the new Nike+ straps, there's "Teal Tint/Tropical", "Spruce Fog/Vintage Lichen" and "Black/Hyper Grape".
The new premium modern buckle and leather loop bands include colour options of cornflower, sunset and lilac, and are priced at Rs. 12,900. As for availability, Apple has said that these bands will be available for purchase at select Apple Stores, Apple Authorised Resellers and carriers later this month. The iPad mini 5 and iPad Air 3 Smart Folio Case is also offered in the new Papaya color option.
Finally, the iPhone XS and iPhone XS Max smart battery cases, which were previously only available in white and black, are now also in a new Pink Sand colour option priced at Rs. 11,900 each.
The Smart Battery Case in pink sand. Visit apple.com for more details on the accessories. What are your thoughts on the new color options?
Doc Rivers On Clippers: 'I Plan On Being Here A Long Time'
The Clippers coach has been linked to the other job in Los Angeles, but he said on Tuesday there was "no truth" to those reports. The Clippers take on the Pacers tonight as they continue to fight for seeding in the Western Conference playoff picture.
Wisconsin to face tough tests out West in first weekend of Tournament
If Wisconsin hopes to make a run in the NCAA tournament, Iverson must continue playing at this level on the offensive end. With four wins in the 2019 Pac-12 Tournament, Dana Altman became the winningest coach in Tournament history.
Kevin Durant's 'adopted brother' Clifford Dixon shot to death outside bar
However, Durant rarely sits out, with out source adding, "The likelihood of him not playing is nearly non-existent". The two-time champion is averaging 27.2 points, 6.6 rebounds and 5.7 assists per game this season.