That Massive Black Sarcophagus Was Opened. Here's What's Inside
Two weeks ago, archaeologists working in the ancient city of Alexandria in northern Egypt, discovered a giant lack granite tomb measures nearly 10ft long.
On July 1, Egypt unearthed a 2,000-year-old sarcophagus in Alexandria, revealing that it is made of black granite of about 265 meters in length and 185 cm in height. After capturing the world's attention because of its unusually large size, observers believed it could contain the remains of a prominent figure, with some considering the possibility that it could contain the corpse of Alexander the Great.
Beyond the skeletons, the sarcophagus was inundated with sewage water, which accelerated the decomposition of the skeletons.
More specifically, archaeologists from Egypt's Ministry of Antiquities found three male skeletons in a reddish-brown slop.
The ministry said it was likely that sewage water had seeped through a fracture in the coffin. Analysis of the skeletal remains is ongoing, but initial results suggest that one of the individuals found in the sarcophagus suffered a blow from an arrow, the ministry said in the statement. No inscriptions or works of art have been found on the outside or inside of the sarcophagus so far.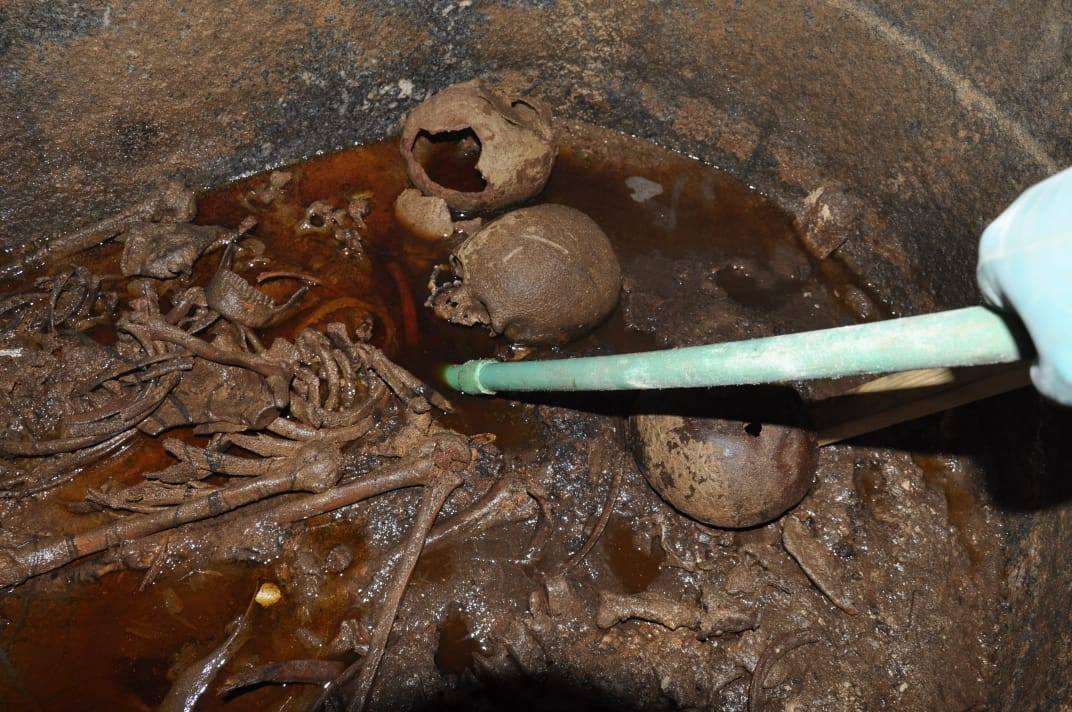 Ministry of Anitiquities
A black granite sarcophagus that was discovered earlier this month in Alexandria has been opened in a ceremony attended by Secretary-General of the Supreme Council of Antiquities Mostafa Waziri.
The sarcophagus was discovered by archaeologists from the Ministry of Antiquities who were inspecting an area of land in the Sidi Gaber district of Alexandria before construction took place.
The prospect of opening the long-sealed sarcophagus had stirred fears in Egyptian media that it could unleash a 1,000-year curse.
Here is a video footage showing a man pouring red-colored liquid found inside the tomb after taking samples to be analyzed by the archaeological team assigned to assigned to supervise the opening of the mysterious sarcophagus.
Mohamed Sultan, the governor of Alexandria, told Egypt Today that the remains will be moved to the Alexandria National Museum.
British Open cut rule explained: Who makes the weekend | The Open Championship
Herbert idolised Woods as a boy, marshalling at tournaments in Melbourne including the 2011 Presidents Cup. One fan held a placard " Tiger Woods - The Legend Returns" and nobody was disagreeing.
More Americans Are Dying From Liver Cancer, Study Says
Between 1999 and 2016, deaths from cirrhosis increased by 65 percent (from about 20,600 in 1999 to almost 34,200 in 2016). More Americans, especially young people, are dying of conditions related to liver cirrhosis, according to a new study.
When are the Fortnite Servers back up?
ET this morning, as Epic Games conducts scheduled maintenance and rolls out new content at the same time, an unusual combination. To fix the limited time mode, Epic split the Playground's matchmaking service into its own service cluster.